How to find great content ideas for your business or blog?
Creating unique and useful content is a key success factor in your content strategy but finding relevant ideas is one of the toughest challenges for content strategists. How to find these content ideas that are truly genuine and meaningful for your audience? Here are 5 tactics to help you identify ideas that address your audience's intentions.
The Fortune Magazine MPW story
In the summer of 1998, Rik Kirkland (former managing editor at Fortune Magazine) called Sue Callaway, then a Fortune senior editor, and me (Pattie Sellers), then a senior Fortune writer, into his office and said, "We should do something annually about women." He had invited me to the meeting because I had done a couple of hot-selling and buzzy cover stories—Women, Sex & Power in 1996 and The Toughest Babe in Business (about banker Darla Moore) in 1997—and other business publications had not much noticed the rise of women leaders in business. Once Rik and Sue and I agreed that we should create an annual power list, I said, "We have to rank them." Rank them—how?, Rik asked. "We come up with criteria and then sit around a table and argue," I replied. The four criteria that we devised in 1998 are still used for Fortune's annual MPW rankings today: the size and importance of the woman's business in the global economy, the health and direction of the business, the arc of the woman's career, and her social and cultural influence." Read more on Quora.
This story is the one behind one of the most important pieces of content published every year by Fortune Magazine : The Most Powerful Women (MPW) of the year.
This testimony by one of the former senior writer of the magazine is very interesting. We actually don't know why Rik Kirkland suggested to write something about women and where that idea originally came from. But more importantly the idea was discussed and validated by a team of three senior writers with a lot of experience on what could work. Great ideas in general are generated that way. It is that notion of "liquid network" that was also developed by Steven Johnson on his "where good ideas come from Ted Talk".
If you are reading this blog post, chances are you're in the process of writing an article or maybe producing a video content. Whatever your motivation is, the haunting question remains the same for every content strategist: how to find original content ideas that convert?
First, set your business objectives and understand your audience
These important steps should not be neglected: you have to invest your time on what matters most to meet your goals and reach your audience. Keep in mind the following:
There is a lot of content online and most of it is duplicate. You have to stand out from the crowd. 
There is sometimes a gap between what copywriters are offering and what users are looking for.
Take the covid-19 coverage for instance and look at how copywriters are trying to attract readers through their title tags. As we can see below, copywriters usually have a single angle with their title tag which promises the reader to find details on covid-19 symptoms on their page.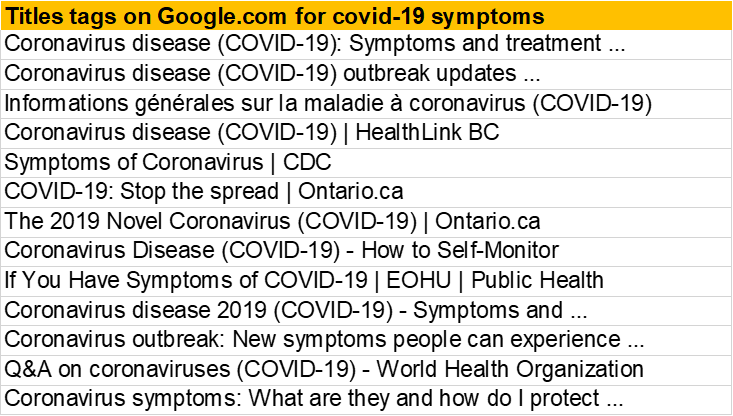 On the other hand, check out below the search queries on this topics: there is no match with the content title tags above. Then how are you supposed to stand-out and get traffic?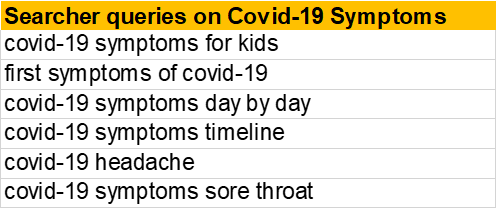 I recommend content strategists to follow the guidelines below:
1- Set your business goals for your content, such as:
Drive engagement towards your platform (like on the NYTIMES interactive piece in my previous blog post)
Collect emails or subscribers
Knowledge sharing by positioning yourself as expert on covid-19 symptoms
Etc.
2-Define your audience and understand their expectations: using Personas is very helpful to narrow down the needs of your different targets.
3-Build your content plan with genuine and relevant ideas which will cover your audience's intentions.
5 tactics to find great content ideas
1. Change your mindset to embrace entities
Search engines nowadays rely on entities to better understand the purpose of a content. They no longer rely on keywords because copywriters tend to use them too much to improve their rankings, not to satisfy their audience. The smart content strategist should look at a topic as a whole and should avoid to cover only one specific angle.
A brainstorm on covid-19 could lead to an article focus on:
The people of the Chinese region of Wuhan
The first symptoms
The SARS-Cov-2
Multi-organ failure
Droplets
Hand washing
Reverse transcription polymerase chain reaction (RT-PCR)
As you can see, my content ideas above don't include the word covid-19 but these are entities directly linked to that topic.
2. Think topics, not keywords
Use Google Trends topics instead of queries to easily find key topics. You should start your brainstorm at that level, then you can look at keywords or related questions people ask on your favorite tool : Moz, Ahrefs, SEMRUSH, Keywordtool.io, Answer the public, etc.
A quick tactic to easily find entities is to look at the "related topics" tab on Google trends. Find below an example of the entities that are related to covid-19: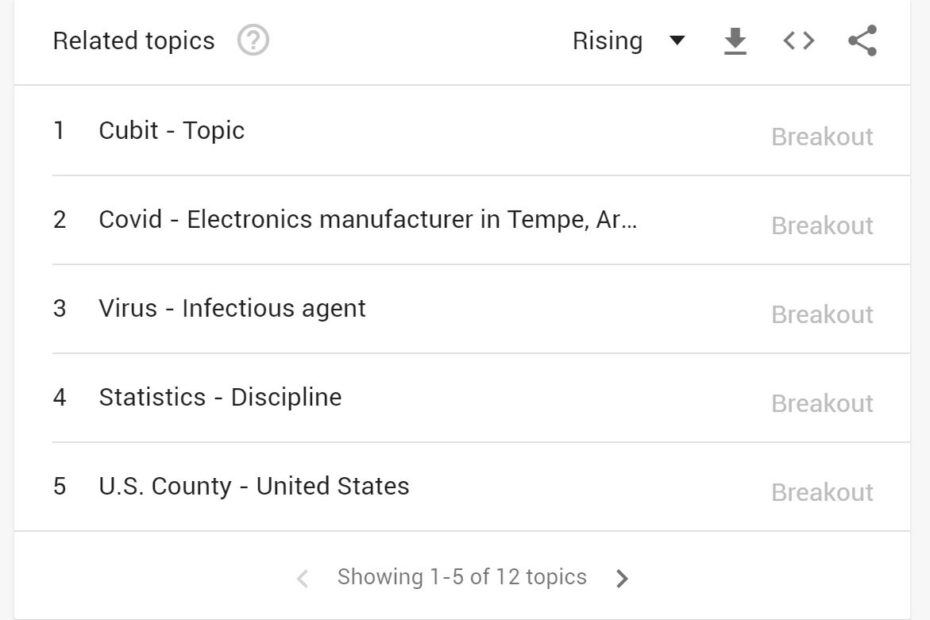 3. Use Image search as content ideas generator
This is a big topic that I have discussed several times including here on research gate. Images recognition algorithms are very mature now so it is a good source to find content ideas. Use Pinterest, Bing Images or Google Images to get new your content ideas.
Let's say you want to write a piece of content about "hand sanitizers". By looking at images shared on that topic online you can find great angles for your content and of course you can reference or link back to some sources to complement your article.

4. Track forums and look at popular questions without answers
Quora's members can share expertise on questions with no answer or few answers. You can look at these questions as a starting point on your preferred forums or Q&A websites.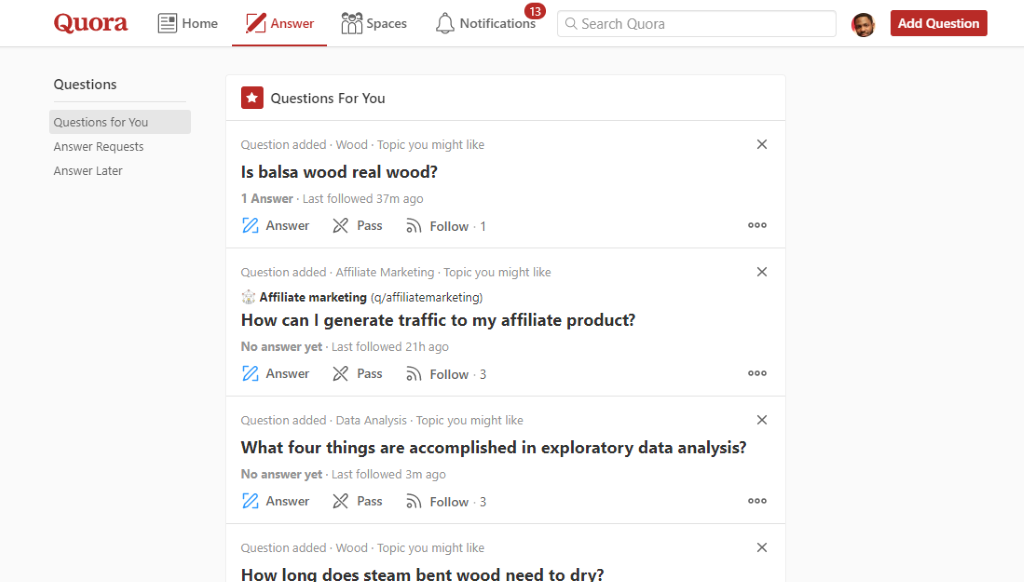 5. Look at users reviews on Amazon or Google My Business (for Retailers)
Amazon is well-known for their product pages full of reviews. A good way to find content ideas worth chasing is through users comments when they share their experience after using an item. For instance with this hand sanitizer, Amazon does a great job on tagging comments, which allows you to easily pick new ideas.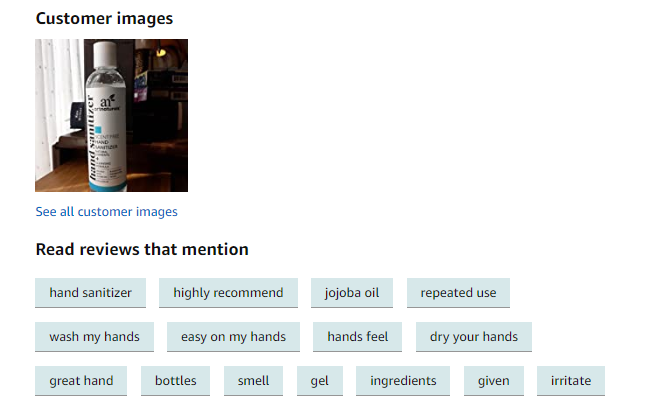 Of course my recommendation is not to limit yourself to these tags, you should read the actual comments to identify the issues or the intents the audience has. Let's say I'm intrigued by "repeated use", a simple page search leads me to a comment which makes me realize ingredients are important in the buying process. Also, it looks like people tend to favor sanitizers that dry quickly, etc. Then I could run a keyword research on "how people use their sanitizers".

Ideas are hard to find if you want to make an outstanding piece of content with a great ROI (leads, sales, brand exposure,…). Great ideas arise by combining content relevance for users and emotions drivers. I have suggested 5 techniques to help you find great ideas without spending too much money. Please share your thoughts in the Comments section below, especially if you have other helpful tactics to recommend.
Related Question: What is content strategy and how does it differ from content marketing?
As mentioned above the purpose of this article is to help content experts with 5 quick tactics to start their editorial process. However any content project is part of a content strategy. I would like to suggest you to read an interesting resource from usability.gov, where they cover content strategy basics extensively. Some of their best practices are still relevant today such as:
Reflect your organization's goals and users' needs. You can discover your users' needs through conducting market research, user research, and analyzing web metrics.
Understand how users think and speak about a subject. Content should then be created and structured based on that. Doing this will also help you with search engine optimization (SEO).
And so on…
You liked this post? Share the love!